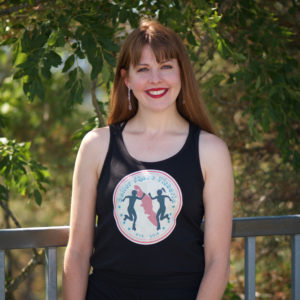 Founder and Owner
Skate IA Certified Instructor
Skate Canada Gold in Freeskate, Dance, Skills
Professional show skater with Disney on Ice, Holiday on Ice, Canada Ice Dance Theatre
Roller Skate Victoria Dance Crew Choreographer and Skater
3 years of roller derby with Eves of Destruction
Andrea "SkaterBoyes" Boyes has almost four decades of skating experience. She has completed Skate Canada Gold in Freeskate, Skills and Dance; as well as her Novice Competitive Freeskate. At 17 she left competitive figure skating for show skating and toured with Disney on Ice in China and North America. She has also performed with Holiday on Ice in Europe and South America, and Canada Ice Dance Theatre in Vancouver. Living in "Hollywood North" Andrea has also had the opportunity to perform as a skater in TV and film. Andrea has been roller skating since 2014 transferring her skills from blades to wheels.
She is a certified Skate IA roller skating instructor and founder/owner of Roller Skate Victoria and has also taught roller skating in Vancouver, Calgary, Edmonton, Saskatoon, Winnipeg and LA. Andrea also teaches people around the world online through the Roller Skate Victoria Online Dance Academy.
Andrea sees skating as an art form and works to share that with her students. Specifically, she trains skaters in roller dance as a performance art. She is Artistic Director for four roller dance performance groups (Victoria Rollers, Mini Rollers, Victoria Roller Girls, and RSV Super Group) where she lives in Victoria, BC Canada.
You can follow Andrea on Instagram @skaterboyes
Favourite Skate Move:
Skate Gear:
Golden Horse Noble/Street Diamond with Vanguard Gold plate and Roll Line wheels (Ice, devil, panther)
Fun Fact:
Andrea raises chickens in her backyard